Southern Fried Rump Steak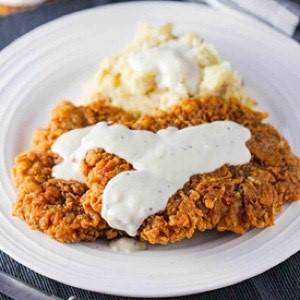 Ideal for lunch or dinner.
300g
0.5 tbsp
0.5 tbsp
0.5 tbsp
0.5 tbsp
0.5 tbsp
0.5 tbsp
2 cups
3 tbsp
4 pcs
Plain Flour
Garlic Powder
Onion Powder
Paprika
Sage / Marjoram Powder
Salt
Ground Black Pepper
Buttermilk
Cooking Oil
Rump Steak, sliced
1. Cover steaks with plastic wrap on a work surface and gently pound them to 1-2cm thickness.
2. Marinate rump steak in buttermilk for up to 2 hours.
3. Heat 5-6cm of oil to 175°C in a dutch oven or high sided skillet.
4. Mix spices and seasonings into the flour un a large container.
5. Take Steaks directly from buttermilk into the flour and coat thoroughly.
6. Gently shake excess flour off the steaks and let rest for 5 minutes.
7. Carefully place steaks in the oil and cook for 4 minutes each side or until golden brown.
8. Serve with your favourite steak sauce or gravy.
For a no-marinate quick version, salt and pepper the steaks after pounding. Whisk one egg into the buttermilk and coat in the egg/buttermilk and into the seasoned flour.
For a spicy kick, add a few dashes of your favourite hot sauce into the buttermilk marinade.
tbsp = tablespoon           tsp = teaspoon
Keep it Real. Keep it Tyson.